Take a hike in Siskiyou and you'll often find a mesmerizing waterfall, making that extra trek worth every step. There's nothing more relaxing than turning the corner and hearing magical water flows. Here are five of our favorite Instagrammable waterfalls in Siskiyou.
The path getting to the beautiful Faery Falls in Mount Shasta may start on an old dirt road, but don't let that deceive you. Faery Falls is located along the historic Ney Springs Canyon Trail, a former resort location that has since been taken over by nature. The water flows here are truly a site to behold and the beautiful energy of the waterfall alone is worth the trip! The falls drop about 50 feet, offering tons of Instagrammable photo ops.
Image Credit: @californiathroughmylens
Often referred to as one of Siskiyou's biggest hidden gems is Hedge Creek Falls. Just a short hike off I-5 in Dunsmuir and you'll be taken to this beautiful waterfall, but that's not all. There is a small cave located behind the waterfall, allowing visitors to walk behind the cascading water. How cool is that? Fun fact – the cave is also rumored to have been California stagecoach robber Black Bart's hideout. Near the waterfall there is also a viewing platform offering a spectacular view of Mt. Shasta. Get your camera ready!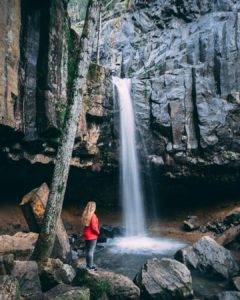 Image Credit: @agirlinthewild
If you're looking for variety, make your way to the breathtaking McCloud Falls. Known for its three tiers – Lower, Middle and Upper – all three of these misting falls are encompassed in granite, but the similarities end there. The Lower Falls are tame, the Middle Falls offer a spiritual feel and the Upper Falls are the most intense. We can agree on one thing – all three falls offer amazing Instagrammable photos!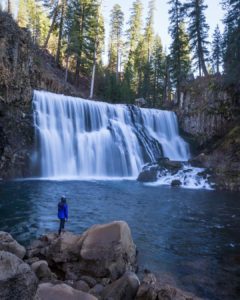 Image Credit: @aaliceinwonderland
Ukonom Falls is not only picturesque, but unique with its twin falls. The beautiful falls are located along the Klamath River and are truly stunning. Getting here is a bit rugged from the river, but if you're up for an adventure, we think it's worth it! You'll have to hike just under a mile, but there is an area for cooling off next to the falls.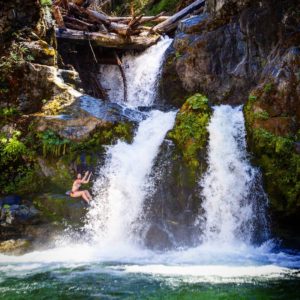 Image Credit: @johnhefti
Shackleford Falls may be short, but it's truly mesmerizing. Located in Fort Jones, the falls drop into pools below where visitors can swim. Before you head here, be prepared to climb through a somewhat steep, but short trail. The beautiful falls are worth the trip and offer tons of great photo ops, at least we think so!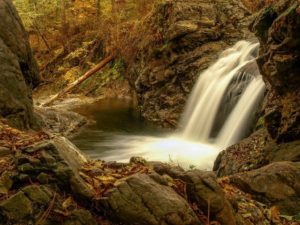 Image Credit: @michele_james_photography
Which is your favorite waterfall? Book your trip today and become mesmerized by our water!