Outdoor enthusiasts are always looking for their next adventure. They need not look any further than Siskiyou, known as "California's North." 
With more than 445,000 acres of incredibly beautiful wilderness, Siskiyou is the perfect place to connect with nature, explore lush forests, discover grand waterfalls, see star-filled skies, experience the wonder of caves created by volcanoes thousands of years ago, and so much more. 
There are numerous camping sites throughout Siskiyou. Whether you prefer minimalistic camping or laying your head on a hotel pillow, there are plenty of options from one extreme to the other and everything in between. We've provided some of the best camping spots in Siskiyou below; for more information, click here.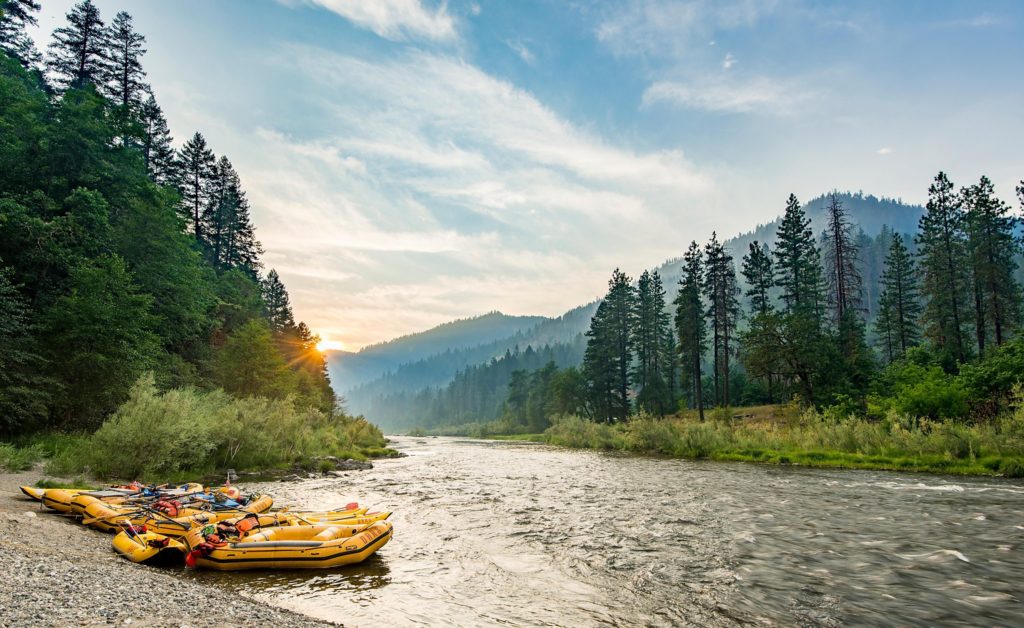 INDIAN SCOTTY CAMPGROUND
Located near Jones Beach on the scenic Scott River in Klamath National Forest, Indian Scotty Campground offers more than two-dozen first-come, first-served campsites and one group campsite, which is available by reservation only. About 14 miles from Ft. Jones, this is an ideal spot to swim, fish, hike and go rafting down the Scott River. The extraordinary Mt. Shasta, the second-highest peak in California, is visible from some of the campsites. There are also several other lodging options in nearby towns.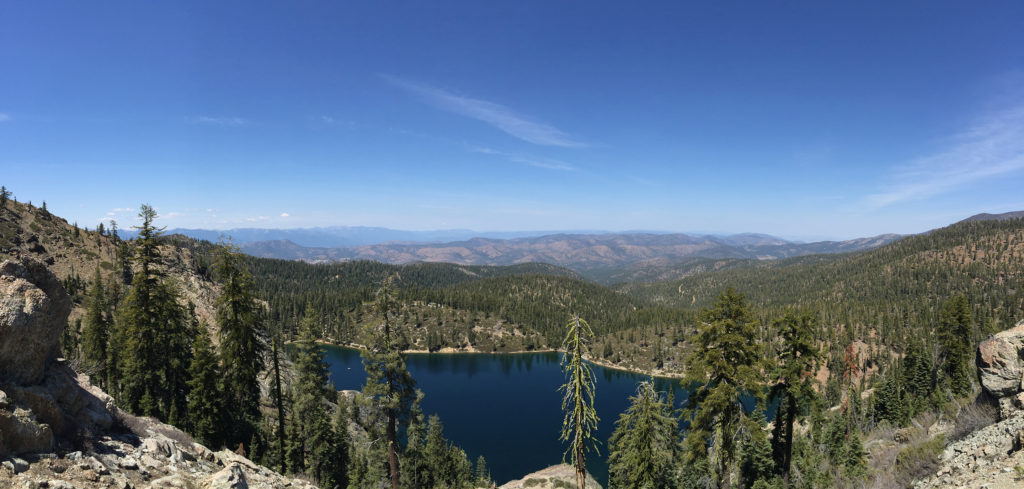 KANGAROO LAKE CAMPGROUND
The 25-acre, 110-foot Kangaroo Lake is home to the Kangaroo Lake Campground, which is one of the few high mountain lakes accessible by car. Featuring 13 drive-in and five walk-in campsites with wheelchair accessibility, the campground is adjacent to a self-guided interpretive trail that connects to the Pacific Crest Trail at the top of the ridge overlooking the lake. A variety of good-sized trout can be caught from a fishing platform or a motorless boat (there are no boat ramps). Canoes and inflatables are popular water attractions. When planning your adventure to the area, make sure to check if the campground is open as snowfall may affect access.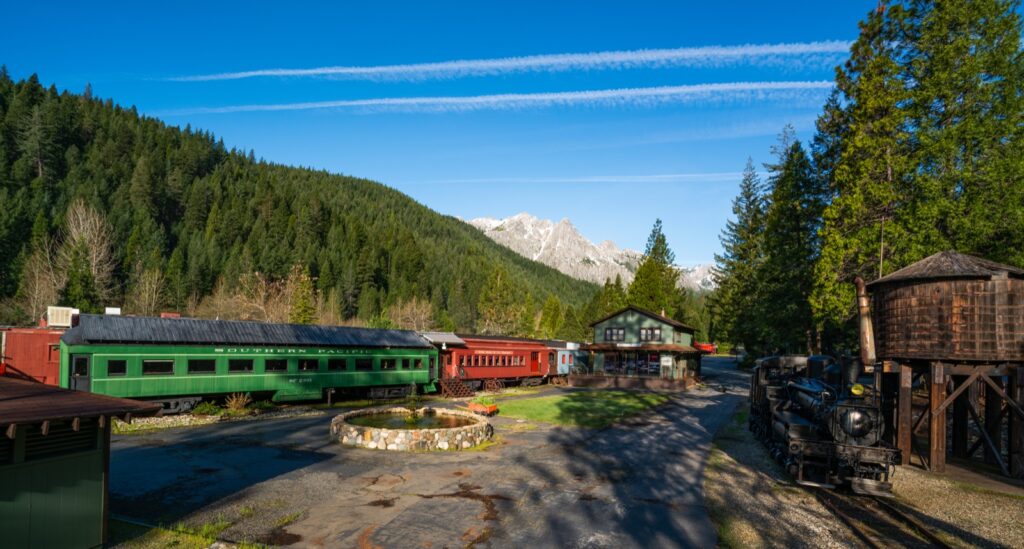 RAILROAD PARK RESORT CAMPGROUND
Located in the historic town of Dunsmuir, Railroad Park Resort Campground features two-dozen tent campsites for the adventurous and 23 RV sites for those who prefer staying at home. Either way, you'll wake up to the mountain fresh pine-scented air at this scenic site, which is next to a clear mountain creek in the tall pines known as Castle Creek. For campers who can't quite drag themselves away from modern conveniences, there are hot showers, a game room, a pool and spa and an onsite store. 
The resort itself is a tribute to our nation's past. Vintage railroad cars have been transformed into caboose rooms with full private bathrooms and modern amenities. Perfect for families, cabins offer larger spaces and amazing mountain views. And everyone who stays at the campground is welcome to enjoy breakfast, lunch and dinner at the truly unique Dining Car Restaurant, built inside restored antique railroad cars.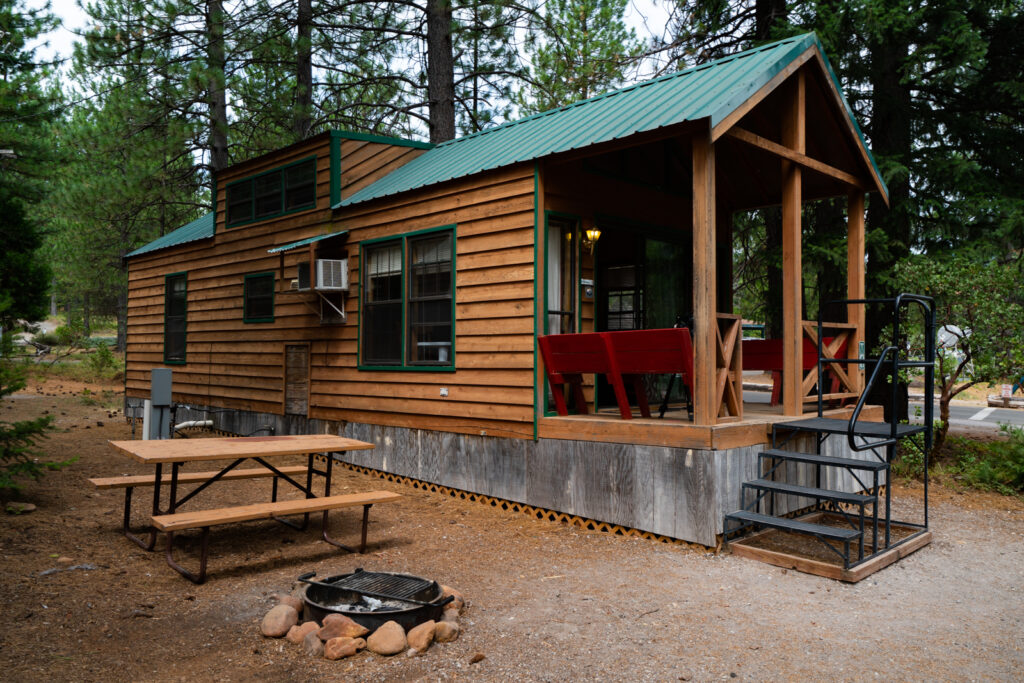 LAKE SISKIYOU CAMP RESORT
Panoramic views of Mt. Shasta and the Shasta Trinity National Forest are just part of the allure of Lake Siskiyou Camp Resort. The variety of lodging options spans the gamut from rustic tent sites to spacious three-bedroom houses. 
There's plenty to do at the resort, including relaxing at quiet fishing spots, hiking or biking the scenic 7-mile Lake Siskiyou Trail, renting a patio or fishing boat, paddleboarding and kayaking. The Splash Zone, a waterpark of large inflatables on Lake Siskiyou, definitely sets the resort apart. While there, make sure to enjoy a meal at the Lake Sis Grille & Brew, open through Labor Day. 
SHASTA REGION GLAMPING
There are those who want the ruggedness and adventure of basic camping, being one with nature without any frills. Then there are those who are looking for a little bit of luxury while surrounded by nature.  
You can still take a hike, explore forests and go fishing, but when you're done for the day or need a rest, you can head back to your accommodations, which could be a spacious luxury tent, travel trailer, cabin, treehouse, hut or yurt, just to name a few. 
Out Livin' is a local company that provides all the essentials for glampers. Featuring sites in a sub-range of the Klamath Mountains called the Trinity Mountains, near the Shasta-Trinity National Forest, Out Livin' sets up the camp before guests arrive and does the cleanup once they leave. Safari-style canvas wall tents are situated on an elevated wooden platform and include a queen bed, nightstands and more, leaving guests to focus on enjoying their vacation experience.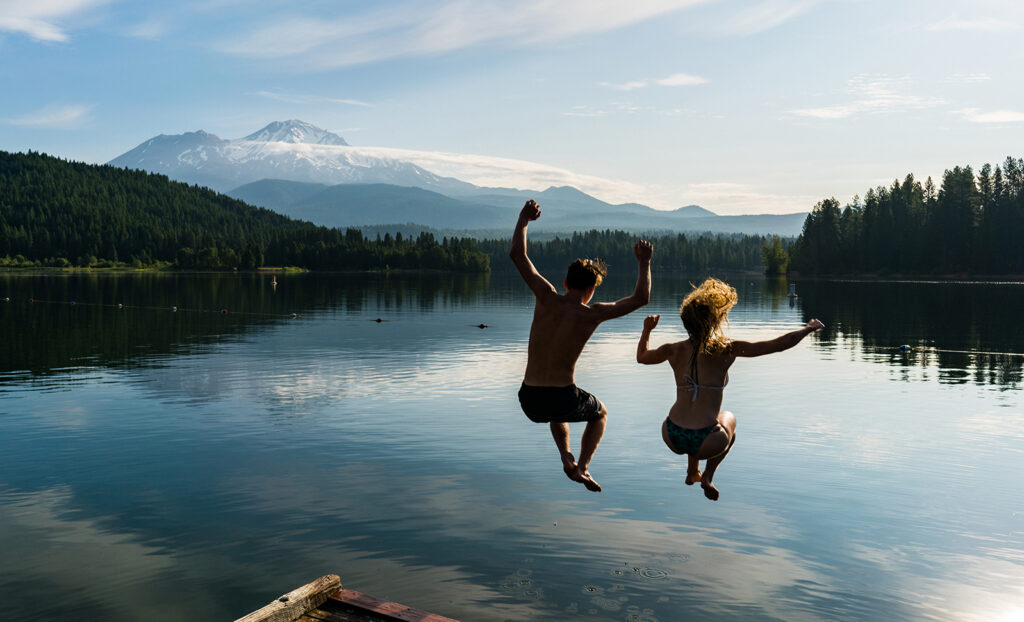 Local residents of Siskiyou take pride in the history and beauty of this incredible region. They want to share it with the world. If you live in the city or the suburbs and need a place to get away, there's no better option for natural beauty, endless adventure and spiritual rejuvenation than California's North. 
Note for Travelers:  
Due to the increased moisture we have experienced in the region, we could be even more prone to tick exposure this season.   
Here are some tips and tricks for preventing tick bites and what to do should you come into contact with them this season.  
Dan Salkeld, an ecologist at Colorado State University and a scientific advisor for the Bay Area Lyme Foundation, encourages people to "take precautions, stay on trails, use repellent, and do tick checks after hikes or outdoor excursions." Should you get bit, Salkeld advises to "remove the tick as fast as you can."  
Ticks hate the smell of lemon, orange, cinnamon, lavender, peppermint, rose geranium, and cedarwood thyme, so they'll avoid latching on to anything that smells of those items. Try making a spray with these essential oils, and always use caution when using any essential oil around pets.   
As you venture out this summer, remember to take precautions and check yourself and your pets after spending time outdoors.