Memorial Day, observed on the last Monday in May, is a day to honor those who have fallen while serving in the US military. Many regard the weekend preceding this day as the unofficial kick off to the summer season. There are lots of things to see and do around Siskiyou this weekend. We have a car show, a mushroom festival, and a special ceremony that honors veterans of our armed forces.
Below is a list of 5 things to do in Siskiyou to fill your Memorial Day weekend with sights, tastes, and adventures, while also honoring those who gave the ultimate sacrifice for our freedoms. Book your stay now!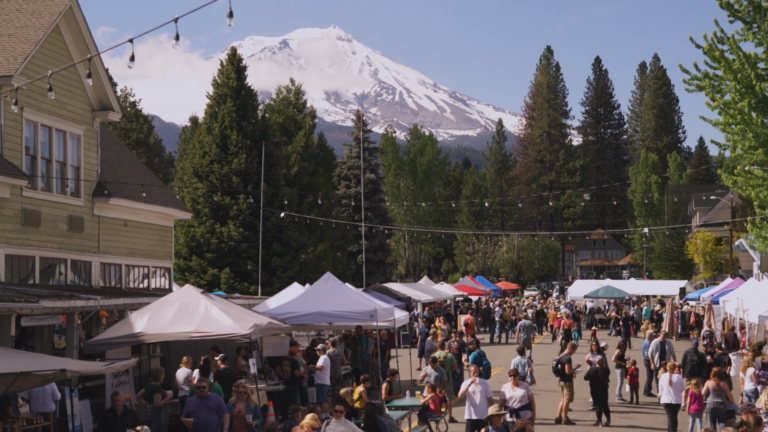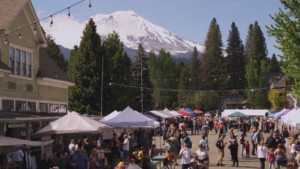 What: McCloud Mushroom, Music and Wine Festival
All things mushrooms will be celebrated this Memorial Day weekend at the annual McCloud Mushroom, Music and Wine Festival. This event celebrates the proliferation of wild mushroom hunting that occurs every spring in and around the city of McCloud. The charming downtown area of McCloud will host nearly 70 artisan, craft, and food vendors in this FREE two-day event. The event also includes a Festa de la Foresta, a 7 course mushroom dinner. Enjoy live music, wine tasting, mushroom vendors, cooking demonstrations, workshops, and more.
Where: Downtown McCloud, CA
When: Saturday and Sunday, May 28th and 29th 10am-6pm
What: Living Memorial Sculpture Garden Memorial Day Ceremony
Under the shadow of Mt Shasta, every Memorial Day, the names of U.S. & Allied veterans are added to the "Hot LZ Memorial Wall" in a ceremony at the Living Memorial Sculpture Garden. This powerful and healing garden is located along Hwy 97 just out of the town of Weed.  The garden features eleven sculptures by artist Dennis Smith that pay tribute to all honorable veterans. It is situated on 136 acres of land provided by the USDA Forest Service, which were replanted with tens of thousands of trees by countless volunteers. The trees are living tribute to those who have sacrificed their lives in war. This year's Memorial Day Ceremony will honor veterans with an instrumental and vocal ensemble from the Yreka High School Band, as well as remarks from the YHS music director and retired US Marine Eric Seiler. Although entries for this year's Memorial Day ceremony have closed, for a $100 donation, you can add the name of an honorably discharged veteran, living or dead, to the wall for this year's Veteran's Day ceremony in November.
Where: Living Memorial Sculpture Garden, off Hwy 97, 14 miles North of Weed, CA
When: Sunday, May 29th at 2pm
What: Spring Fling Car Show
The 4th annual Spring Fling Car Show is being hosted at Rain Rock Casino, in Yreka. This FREE event will host incredible cars, vendor booths, live music, and of course an outdoor beer garden! If you'd like to register a car to be shown, those and more details be found here.
Where: Rain Rock Casino, Yreka, CA
When: Saturday, May 28th 9am-2pm
What: Art of Survival Century Bike Ride
The 9th annual Art of Survival Century Bike Ride is a two day cycling event that has routes for all ages and various skill levels. This scenic ride takes riders through some of the uncrowded roads and beautiful landscapes of northeast Siskiyou. Each rest stop offers plenty of fluids and nutritious snacks for riders as well as educational components that highlight the cultural history, geography, environmental issues and geology of the area. Riders get to learn about the areas that they are passing through. Lots more info on this awesome event, including lodging discounts and how to register can be found here.
Where: The Saturday ride will begin in the town of Malin, OR, just outside of Klamath Falls and will pass through Merril, OR and Tulelake, CA. The Sunday ride begins in the community of Dorris, CA.
When: May 28th and 29th

What: Etna and Mt. Shasta Farmers' Markets
Hooray for market season! With such plentiful agriculture in Siskiyou, you know we have some fabulous farmers' markets. Pick up some fresh produce, locally raised meats, flowers, herbs, plant starts, honey, eggs and more at one of our farmers' markets this Memorial Day weekend. Etna Farmers' Market hosts live local music every Saturday and has some unique items such as freeze dried chili mixes from Roam n' Ready Provisions- great for camping or backpacking. You can taste bacon jerky, as well as pick up some delicious ground sausage and other beef and pork cuts from Starwalker Organic Farms. In addition to the fresh produce and flowers, some must-try favorites featured at Mt Shasta Farmers' Market are Pyroclastic Chocolate truffles in unique and seasonal flavor combinations and some fizzy and refreshing Alua Kombucha. These outdoor markets are open come rain or sunshine!
Where: Mt Shasta is located at the 400 block of N Mt Shasta Blvd; Etna 514 N Hwy 3 in Etna, just next to Dotty's
When: Mt Shasta- Mondays 3:30-6pm; Etna- Saturdays 10am – noon
Book your stay at one of our many lodging options and come welcome in the summer season this Memorial Day in Siskiyou!